Great companies can serve not only as an economic engine for customers, employees, suppliers, and business partners but also as a strong community partner based on how that company integrates itself into the communities in which it operates.
So many times, employees follow the same morning routines to get to work – a cup of coffee on the go, a 25 minute commute to work, pull into the parking lot, and do your thing every day. But picking your head up and looking at the community and the surrounding neighborhood as you go to work every day reveals a lot and helps to define where we can have a positive social impact as a company and as an individual. This perspective helps us to understand our community's strengths, resources, cultural diversity, as well as a heightened awareness of community need.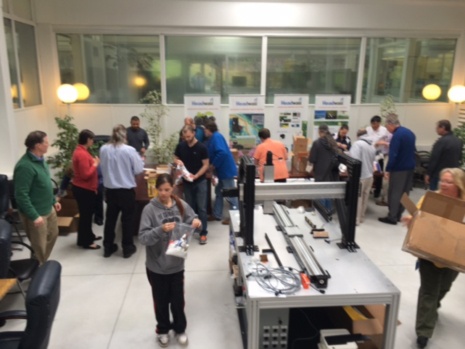 A cornerstone of strong, thriving companies is to establish a brand as a good community partner; defining a commitment to social responsibility and community philanthropy needs to be more engrained in the cultural fabric and strategies of companies.
As an element of our FY16 success plan, Headwall has undertaken a new community service initiative with our employees. A group of employees conducted site visits to a number of community service organizations. As a result, Headwall is working to support Our Father's House, a local non-profit organization based in Fitchburg that is providing shelter and transitional services to homeless men, women, and children in the community.
Above, Headwall employees form a "production" line to package hygiene products for Our Father's House in Fitchburg.